Figueroa Orthodontics is at the forefront of the latest orthodontic procedures, techniques, and treatments. Many advancements now give patients a straighter, healthier smile in a shorter amount of time with fewer visits to the office required.

The VPro5 – Simple. Easy. Fast.
What is the VPro5?
The VPro5 is a device that uses high frequency vibration to seat clear plastic aligners.
How Often Should I Use it?
Utilize the VPro5 for just 5 minutes a day. Continue use for the entirety of your orthodontic treatment, or as otherwise directed by Dr. Figueroa.
How Much Pressure Should I Apply?
Bite down gently on the mouthpiece. There is no need to bite down or clench any harder than as needed to support the device.
The VPro5 Comes With:
VPro5 Oscillator
VPro5 Mouthpiece
Charging Cable & Wall Adapter
USB flash drive pre-loaded with Usage Summary Software
How-to-Guide:

Connect the mouthpiece to the oscillator. Confirm that the device feels secure and stable.
Depress (apply firm pressure) the white on-switch on the oscillator to activate vibration function. A blue light will illuminate. Device will slowly ramp up to full vibration.
While wearing your aligners, bite down on the mouthpiece and begin vibration therapy.
The device will function for 5 minutes per use and will automatically shut-off after the duration of treatment.
LED notification light blinks green 3 times to indicate cycle is complete. After use, clean and charge device as needed.
Cleaning the VPro5
The mouthpiece should be cleaned after each treatment use. Detach the mouthpiece from the oscillator. Rinse the mouthpiece under water and let dry. Do not rinse or submerge the oscillator; however, it may be wiped with a moist towel.
---
PROPEL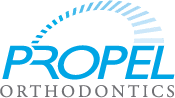 The PROPEL System is an accelerated orthodontic treatment offered by Figueroa Orthodontics to reduce orthodontic treatment time.
PROPEL is used in conjunction with your regular orthodontic treatment whether it be Invisalign, metal braces, or any other appliance. The PROPEL treatment is performed at your regularly scheduled appointment and only takes minutes to complete!
PROPEL does NOT involve painful surgery or require you to use appliances at home.
PROPEL stimulates the bone in which your teeth are set, causing it to remodel faster. As the bone dynamics respond to the stimulation, teeth move faster. The result can be a reduction in the time you spend in Orthodontics by up to 60%.
Our process is patient-focused, creating ways for you to receive the most efficient and effective care available today in orthodontics.
---
OrthoPulse® – Light Accelerated Smiles
OrthoPulse® is an established device that uses low levels of light energy to stimulate the bone surrounding the roots of your teeth and facilitates tooth movement which may reduce treatment time for braces or clear aligners.
How Does OrthoPulse® work?
OrthoPulse® is a self-treatment that does not require extra chair time. It is easily performed by the patient at home in as little as 10 minutes per day. Patients are happy to achieve their goal of a great smile sooner, which benefits doctor and practice. In a controlled clinical trial, the vibrations have proven to accelerate tooth movement by 38%-50%.
Patient Benefits
Accelerated tooth movement without compromised aesthetics
Compatible with all types of braces and Invisalign for both adults and teens
Lightweight for comfort and use during daily activities
Hands-free design allows you to go about your daily activities during the 10-minute treatment. OrthoPulse® facilitates tooth movement which can lead to a reduction of orthodontic treatment time, supported by solid clinical evidence. Current orthodontic mechanics optimize the process of tooth movement, and now OrthoPulse® will allow for the optimization of the biology of tooth movement. The smart science inside the device is based on a clinically proven and safe technology that has been used in medicine for over 60 years and is documented in over 3,300 published research articles.