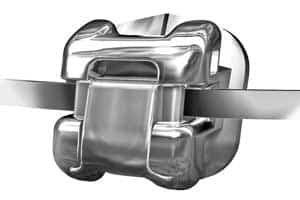 Figueroa Orthodontics is pleased to offer the Damon System. Damon braces use a slide mechanism to hold the high technology archwire, reducing the amount of pressure exerted on the teeth and allowing the teeth to move more freely, quickly, and comfortably. Thanks to these innovative new braces, achieving your perfect smile can be more efficient than you ever thought possible!
Great results in less time. Depending on your case, this may mean a savings of many months. After analyzing your specific needs, we will be able to provide you with a treatment plan that will have you smiling soon!
Damon braces allow freedom of movement – resulting in efficient tooth movement with gentler forces.
Precise and effective – We can reduce the need for many of the time-consuming and complicated procedures that are used with traditional braces.
Fewer adjustments are required – As a result, your appointments will be fewer in number.
Less discomfort than traditional braces. Damon braces are small, very comfortable, and easy to keep clean. Even though the Damon System works quickly, the use of gentle, low- friction force with titanium wires means less discomfort for you.
Self-ligating braces — A world without elastic ties!
Self-ligating braces use a specialized clip in place of elastics to help the archwire guide teeth into place. These clips help reduce the amount of pressure being placed on the teeth and require fewer adjustments because there are no elastics to replace.

Damon Clear Braces – The "Clear" Way to Amazing Results

Damon Clear is part of the innovative Damon System, which combines tieless brackets and high technology archwires that are clinically proven to move teeth quickly and comfortably with spectacular results. Damon Clear combines the best of traditional clear braces and efficient technology to deliver a discrete treatment experience with results that go beyond straight teeth.
Aesthetics
With Damon Clear, people may not even realize you're wearing braces. Tie-less Damon Clear braces are discrete and resistant to staining and discoloration throughout treatment.